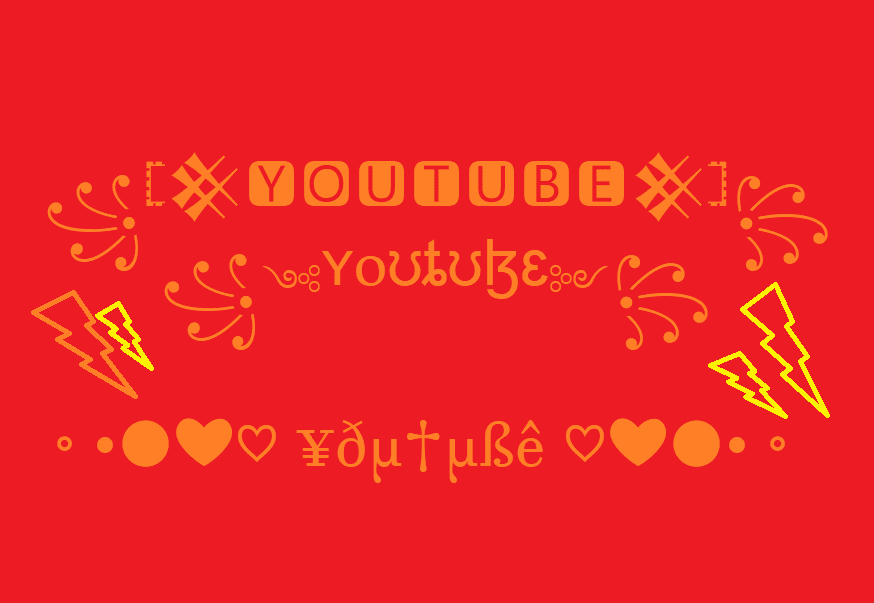 Welcome to YouTube Fonts Generator
Have you seen cool stylish fonts in comments, thumbnail or other places in youtube?
You might be wondering from where are they getting these fonts as youtube inherently doesn't provide any such font options.
You are in right place. fany-name.com is the answer to all such stylish copy & paste font requirements for youtube. The font generator tool in this website page will enable you to generate 100+ cool and stylish fonts which you can simply copy & paste anywhere on Youtube.
Youtube is an online video sharing and social media platform made available by Google. Steve Chen, Chad Hurley, and Jawed Karim founded it in 2005. With more than 1 billion monthly users, it is the second most visited site in the world.
Cool Fonts Generator for Youtube
What coding language do I need to know to use these fonts? Can I use this site to get Cool text fonts for Youtube?
No coding knowledge is required. If you can simply copy and paste these awesome fonts from this site, that much is sufficient. Everything else, this site will do.
Are you sure these fonts will be accepted by Youtube?
Yes, because all modern browsers and social media platforms like Youtube, Facebook, Twitter, Instagram, etc accept Unicode standards. This site tool uses the UNICODE standard. This universal standard has thousands of characters to support various academic requirements and multiple languages.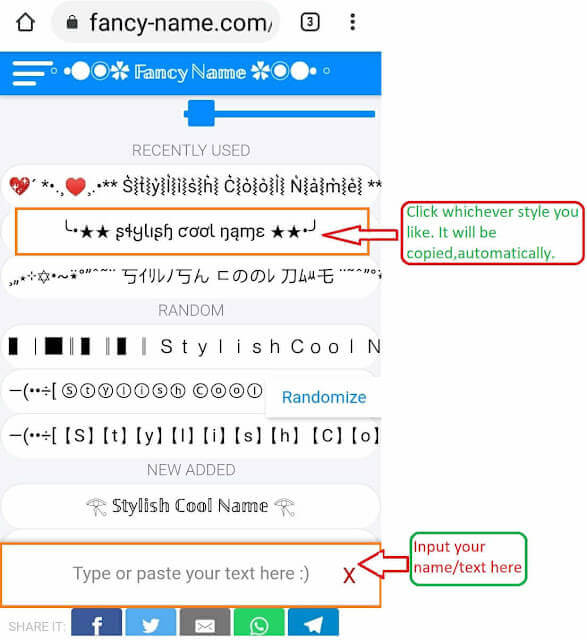 Why use fany-name.com Font Generator?
1. It has the largest collection of the latest fancy text fonts for Youtube.
2. It is all free to use. No need to signup or register.
3. One-click copy feature.
4. Simple to Navigate.
5. All modern browser and social media platforms like Youtube, Facebook, Twitter, Instagram accept fonts generated here.
Where can I use these fancy fonts?
Anywhere, any platform which accepts Unicode Characters. Fortunately, the stylish fonts generated here can be used in all the popular social media platforms like Facebook, Instagram, Twitter, Snapchat, Youtube, WhatsApp, etc. Note, we are not associated with any of these platforms. Just providing exotic Unicode fancy text fonts for you to use anywhere you wish.
Can my profile be decorated with the fonts generated here?
Can I use fonts from this site in thumbnails for youtube?
Show me some sample fonts?
Okay!!!. Here you go.
⧼Y̼⧽⧼o̼⧽⧼u̼⧽⧼T̼⧽⧼u̼⧽⧼b̼⧽⧼e̼⧽
[Y̲̅][o̲̅][u̲̅][T̲̅][u̲̅][b̲̅][e̲̅]
Zalgo (Glitch Font) for YouTube
Y̵̛͖̱̜̯̪͑̑͛̓̚͜͝ö̶̗́̾̾ṷ̷̦̥̏͗̏̋̿̆̚̚͝Ṯ̷̲͉͈͙̇̽̚ṷ̷͔̒̉̽̚͝b̴͖͎͕̾͊͌è̸̯̼̝̼͎̇͂͜ͅ
Inverted Fonts for YouTube
Cursive fonts for youtube
💖🌟😍 Share this page
Click to Copy... Sharing is caring