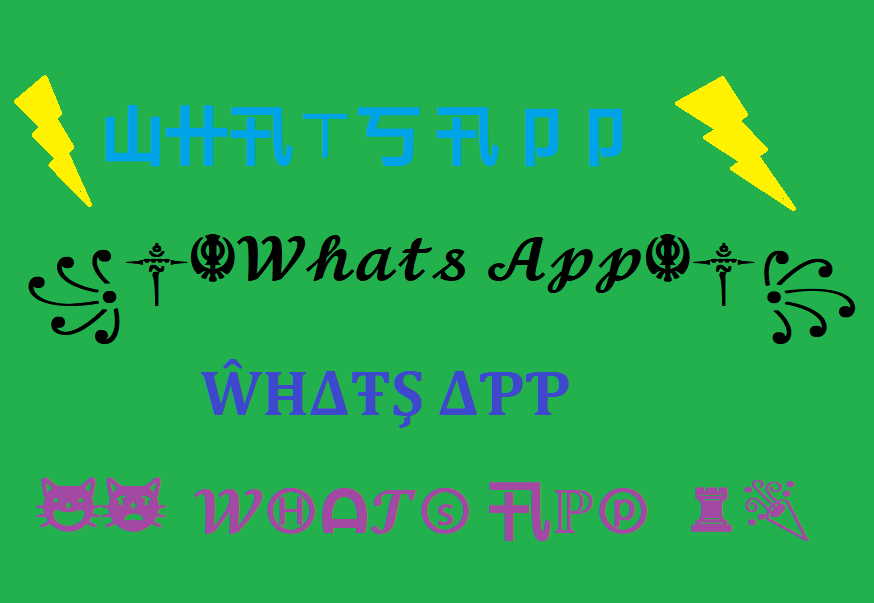 Welcome to WhatsApp Fonts Generator
We all often see WhatsApp messages with awesome fonts. Maybe you have wondered also, how is it possible? By default, there is no "cool" font option available in WhatsApp. Then from where are they changing the WhatsApp Fonts?
Your answer is this site: fany-name.com. The WhatsApp font generator tool in this website page will enable you to generate 100+ cool and stylish fonts which you can simply copy & paste anywhere in WhatsApp.
WhatsApp is Facebook, Inc. First released in 2009.
WhatsApp in simple language is an Instant messaging service that has many cool features like voice messages, Voice-over-IP (VoIP), video calls, share images, documents, locations etc. Facebook acquired it in 2014.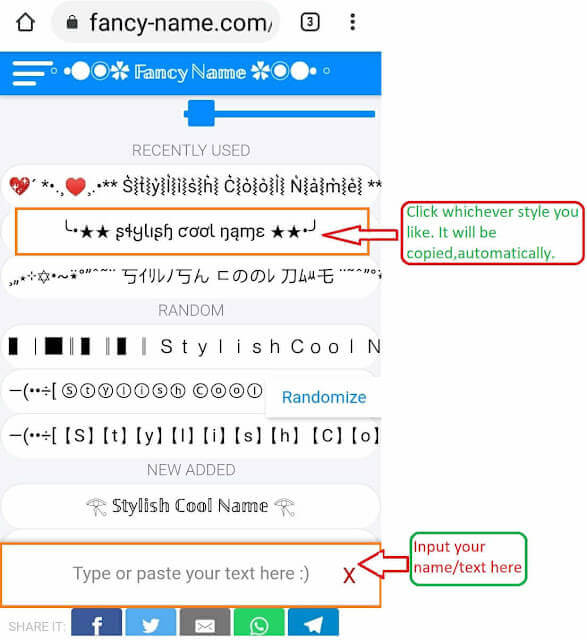 How to make Bold text on WhatsApp?
Our WhatsApp Text Formatter will help you to generate bold, italicize and underline text in your WhatsApp profile and posts. Other popular fonts are...
WhatsApp text bold.
WhatsApp Text Bold Italic
Old English font for WhatsApp
Cursive font for WhatsApp
Monospace font for WhatsApp
WhatsApp text Double Underline.
Many more .....
How can I use this tool to Format Text on WhatsApp for my Profile, messages?
1. At the top (for desktop) or bottom (for phone users), there is a TEXT INPUT area. Simply, enter whatever you wish.
2. Hundreds of fancy fonts will be generated.
3. Click on any fonts style you like. It will be copied automatically.
4. Paste it in WhatsApp messages, profiles, blogs, chats, etc.
How to write in a different font style on WhatsApp?
It's very simple. Type in the INPUT text field the text you wish. Below you will get hundreds of different styles of fonts.

Click on the one you like and paste it into WhatsApp.Details are given below.
Which Fonts WhatsApp Use By Default?
Helvetica Neue is the common font used in WhatsApp by default.
Show me some sample WhatsApp fonts?
Okay!!!. Here you go.
Funny symbols fonts for WhatsApp
W̵̡̱̠̳̗͎̝̬͖͈̒̒́̍̕h̷̪̯̳̳̝̒͂̍̏ắ̸̺̘̻̯̣̣̮̖̆͆̋̓͛͝ţ̷̢̝̩̻̪̈́̀͘̚͘s̵̨̛̺̖̥̠̜̪̉̏̇͒̆̀̈̎͠A̸̢̜̣̙̼̘̱͒̊͑͂̀̿̐͝p̵͇̦͈̯̘̠͇̐̔͐̅̀̚͜ͅṗ̷̡̦̩͓̖̯̐̀̿̓͂̆̇̄͝
Stinky Fonts for WhatsApp
lı⭐🌟 W͙h͙a͙t͙s͙A͙p͙p͙ 🌟⭐ıl
Mono space Fonts for WhatsApp
💖🌟😍 Share this page
Click to Copy... Sharing is caring