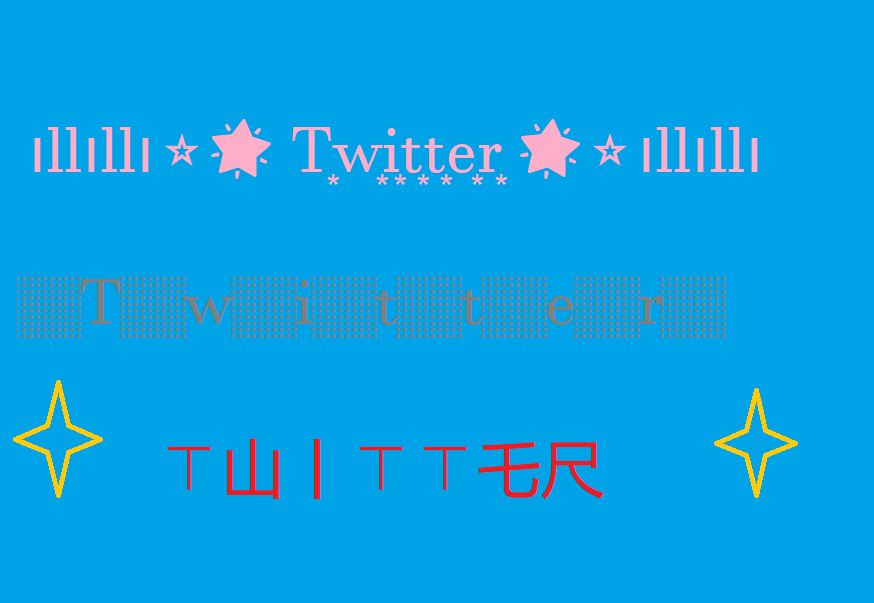 Welcome to Twitter Fonts Generator
We all like tweets with beautiful and stylish fonts. However, by default, you won't find any "cool" font option available on Twitter. So, how are they creating such cool fonts in Twitter.?
The answer is this site: fany-name.com. The Twitter font generator tool on this website page will enable you to generate 100+ cool and stylish fonts which you can simply copy & paste anywhere on Twitter.
Twitter Inc. Founded in 2006.
Twitter is a microblogging and social networking site created by Jack Dorsey, Noah Glass, Biz Stone, and Evan Williams. Its popularity can be measured from the fact that as of now it has 330 million active users daily.
Twitter Font changer
How can I use this Twitter Font generator to change the fonts of my chats and bio on Twitter?
On this page, you can generate more than 100 different exotic fonts styles for Discord. All free of cost.

In the TEXT INPUT box, enter any message/Username/chats and then simply click on any font format you liked. It will be automatically copied. Now, simply paste it anywhere in Discord you like. Below is the image that shows it all.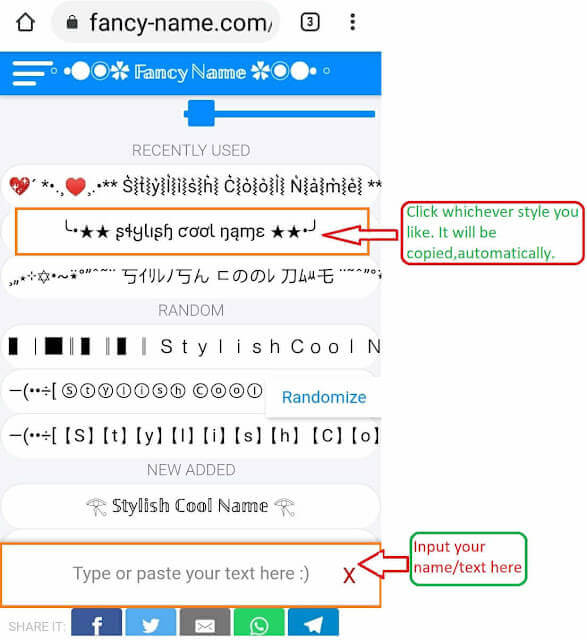 How do the fancy fonts in Twitter work?
Though Twitter provides only markdown syntax, still it accepts Unicode characters.

That's the trick. All the beautiful, fancy and weird fonts you see in this fancy text generator for Twitter are actually different Unicode characters. Some were introduced for specific purposes like gaming, business transactions, academician to put formulas, some others are letters from different languages :).

These letters look like stylish English characters.
How can I use this Twitter Font generator to change the fonts of my chats and bio on Twitter?
1. At the top (for desktop) or bottom (for phone users), there is a TEXT INPUT area. Simply, enter whatever you wish.
2. Hundreds of fancy fonts will be generated.
3. Click on any fonts style you like. It will be copied automatically.
4. Paste it in Twitter messages, profiles, blogs, chats, etc.
How to Change Twitter Fonts to Bold?
On this site, you will find various bold fonts that can be used on Twitter. Simply enter the text you want, copy the bold fonts and paste it.
Our Twitter Text Formatter will help you to generate bold, italicize and underline text in your Twitter profile and posts. Other popular fonts are.
Twitter text bold.
Twitter Text Bold Italic
Old English font for Twitter
Cursive font for Twitter
Monospace font for Twitter
Twitter text Double Underline.
Many more .....
Show me some sample Twitter fonts?
Okay!!!. Here you go.
Dot Joiner Fonts for Twitter
Cursive Fonts for Twitter
T̸̛̬̮͙̺̳̤̋͂̂̑̅̅̕w̷̡̧̢͈̲̦̹̍͝ḯ̸̞͎̦̯̞̰͑͌͗̍́͘͝t̶̨̢͈̜̖̳͂͜t̴̰͓̜̹̦̹̾͊̈́́͑̉̍̌͘ę̵̻͈̈́͌͜r̷̤̻̪̪͊̔͝
💖🌟😍 Share this page
Click to Copy... Sharing is caring