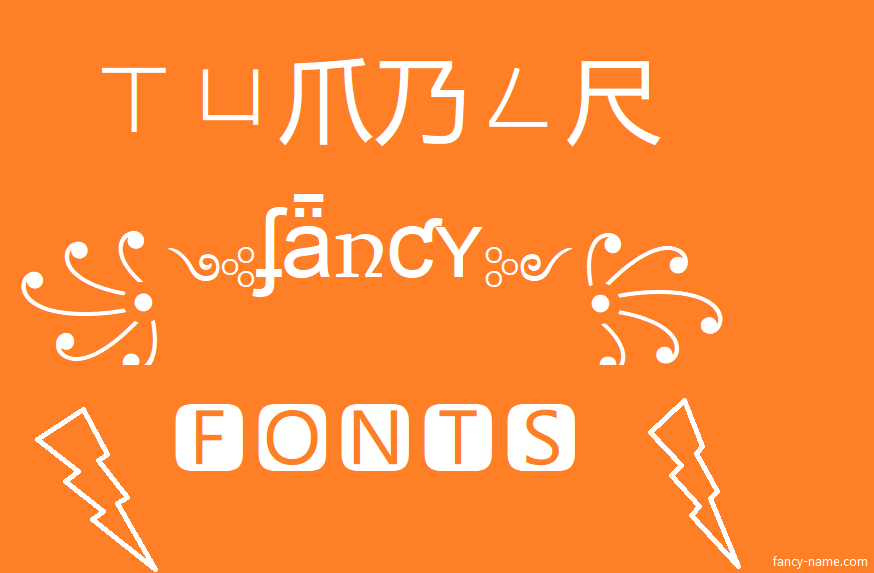 Welcome to Tumblr Fonts Generator
Tumblr is one of the famous micro-blogging and social networking site founded by David Karp in the year 2007. Yes, It's almost 15+ years old since the world got this amazing platform to express themselves and share their feeling. As of date, it hosts more than 529 million blogs !!!
By default, Tumblr doesn't provide elaborate options to choose stylish fonts. It has Bold, underlines, and italics. You can upload images, videos, chats, messages, etc. Don't worry. We have covered you. On this site, you will get the best tumble font generator.
Is it really necessary to use fancy Fonts in Tumblr?
It would have been great if you can input beautiful aesthetic fonts styles in your Tumblr blogs, messages, chats, status, profile, etc. By using aesthetic fonts, your blogs and profile in Tumble will stand out distinct and make them attractive. It will help to have more user engagement and remembrance.
From where to get stylish and cool fonts for Tumblr?
You have arrived at the right site here. On this site page, you will get more than 100 different cool Tumblr fonts which you can simply copy and paste.

How can I use this Tumblr Font generator?
It's simple.
1. At the top or bottom, there is a TEXT INPUT area. Just enter whatever you wish.
2. Hundreds of fancy fonts will be generated.
3. Click on any fonts style you like. It will be copied automatically.
4. Paste it in Tumble post, status, profile, blogs, chats, etc.
Is it possible to use this Tumblr Font Generator On other Social Media Platforms like Facebook, Twitter, Instagram, etc?
Absolutely yes. The fons generated in this site is accepted by all the major social media platform of modern-day, be it Facebook, Twitter, WhatsApp, Instagram. The list is very long. Note: We are not associated with any of these sites in any way.
What type of coding/Technical knowledge is required to use this tool?
Nothing!
If you can enter text and paste it, that is sufficient.
How many different types of Fonts this tool can generate?
Actually due to Randomise Algorithm, this tool can generate unlimited fonts combination. For simplicity's sake, let say more than 100 cool, stylish fonts.
In which coding language this tool is created?
We have spent months making this site with HTML, CSS, JavaScript, and JQuery. It's all for you, Free to use.
How to Enable the Ask Feature in Tumblr?
Login to Tumblr.
1. Select "Settings" under Account icon.
2. Select the blog on which you'd like to enable the Ask feature.
3. Turn on "Let people ask questions."
4. Now view the Ask link on your blog.
How come these Fonts are accepted by Tumblr?
It is because of the Unicode standard.

All modern browser and platforms like Tumble accepts Unicode standards. This universal standard has thousands of characters to support requirements from various groups like students, gamers, academicians, engineers, business, etc. and, multiple languages.

So, by using a combination of these characters, we have made this site. Because of all this "short" technical introdcution, hope you now know why the fonts generated here are accepted by Tumblr.
Show me some sample Tumblr fonts?
Okay!!!. Here you go.
Squiggle Symbol Fonts for Tumblr
SubScript Fonts for Tumblr
SupoerScript Font For Tumblr
Aesthetic Fonts for Tumblr
Old English Font for Tumblr
Bold Italic Fonts for Tumblr
💖´*•♥•* t͛⦚u͛⦚m͛⦚b͛⦚l͛⦚r͛⦚*•♥•*´💖
💖🌟😍 Share this page
Click to Copy... Sharing is caring