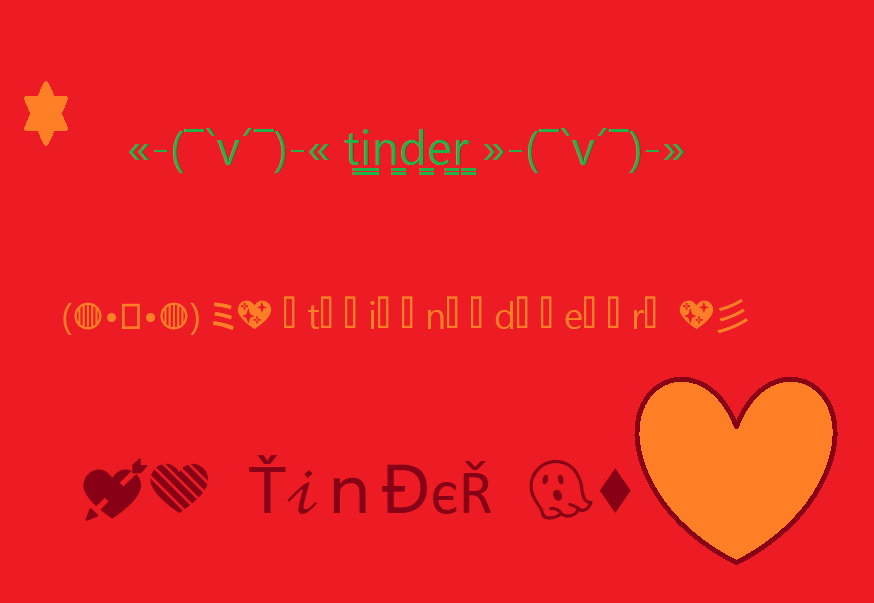 Welcome to Tinder Fonts Generator
You might have seen profile of charming handsome or cutie beauty with cool fancy text? We all know there is no option available in the tinder to generate awesome fonts. Then how are they putting such aesthetic fonts?
The solution to 100s of beautiful and attractive fonts is here, the fancy-name.com. The Tinder font generator tool of this site can generate unlimited fancy fonts which you can use to decorate your profile or chats/messages.
Tinder Inc was created in 2012 almost 10 years ago.
Tinder is a geosocial and online dating app. It allows users to swipe like or dislike other user's profiles.
Tinder Font changer
How can I use this Tinder Font generator to change the fonts of my chats, messages, and profile in Tinder??
1. At the top (for desktop) or bottom (for phone users), there is a TEXT INPUT area. Enter the text you want to convert to fancy text.
2. Hundreds of fancy fonts will be generated automatically.
3. Click on any fonts style you like. It will be copied instantly and a message will be shown.
4. Paste it in Tinder message,, profile, chats, etc.
That's it. Wait for some magical moments and sweet replies in Tinder. ;)
Cool Fonts Generator for Tinder
Will other Social Media Platforms like Facebook, Twitter, Instagram, etc accept the fonts generated here?
Yes!!. They will. Why don't you try out and impress your friends !!!.
All major social media sites and the latest browsers will accept our fonts because all understand Unicode standards.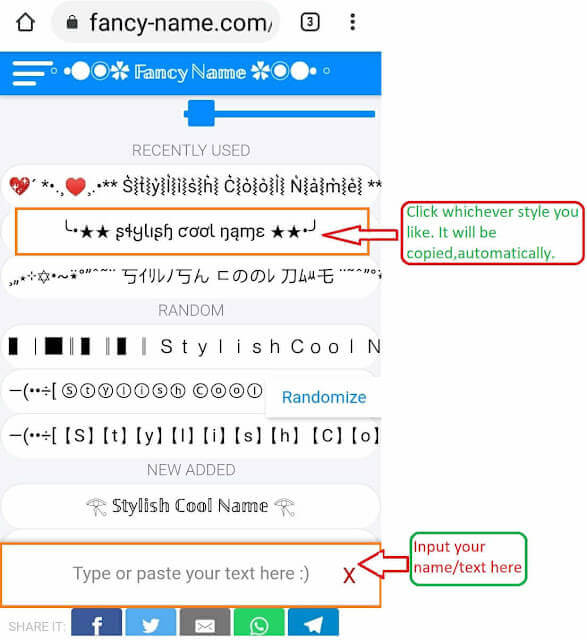 Tinder Text decorator

Can my profile be decorated with the fonts generated here?
Can I change the Username font with some cool text here?
Can I Simply Copy & paste these fonts in Tinder? Any coding required?
No Coding Required. Simply click on the font style you like and paste it anywhere you wish. That's it.
Which Fonts Tinder Use By Default?
The Gotham Rounded font is used in Tinder by default.
Show me some sample Tinder fonts?
Okay!!!. Here you go.
Illuminati fonts for Tinder
Old English Font for Tinder
Medieval English Font for Tinder
Bold Italic Font for Tinder
Russin Style Font for tinder
Subscript font for Tinder
Glitch Font (Zalgo) for Tinder
t̶̨̧̰͉̫̖̲̯͍̺̆̐͆̒̎͘͝͝ì̴̟̾̓̔̿͗̊̉n̷̡͇̰͓̰̫̹͔͔̻̑̒ḍ̴̢̞̰̈́̾e̶͔̯̺̗̭͂̓̾̃̋̋̾͊̓͜͝ṙ̸̗̱̏͗͊̓̍͒̉̕
💖🌟😍 Share this page
Click to Copy... Sharing is caring