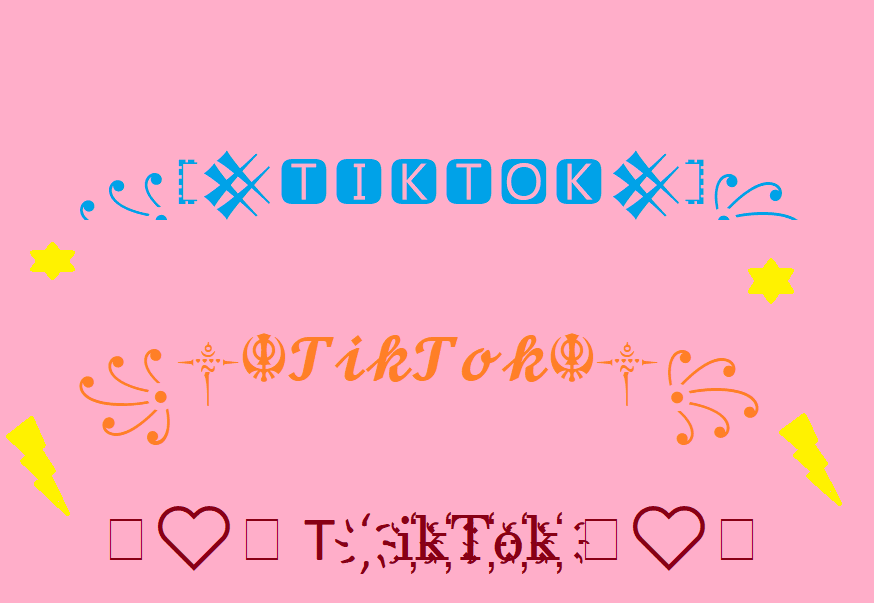 Welcome to Tik Tok Fonts Generator
We often see our people posting messages with beautiful and stylish fonts. However, we don't find any such font options in TikTok. So, you might be wondering how are they creating such cool fonts.
The answer is this site fany-name.com. The TikTok font generator tool in this website page will enable you to generate 100+ cool and stylish fonts which you can simply copy & paste anywhere in TikTok.
It is owned by ByteDance.It is known as Douyin in China.
TikTok is basically a video-sharing-focused social network app/service owned by a Chinese company. It mostly has short videos from 15 seconds to 3 minutes.
How can I use this Tik Tok Font generator to change the fonts of my chats and profile on Tik Tok?
1. At the top (for desktop) or bottom (for phone users), there is a TEXT INPUT area. Simply, enter whatever you wish.
2. Hundreds of fancy fonts will be generated.
3. Click on any fonts style you like. It will be copied automatically.
4. Paste it in Tik Tok messages, profiles, blogs, chats, etc.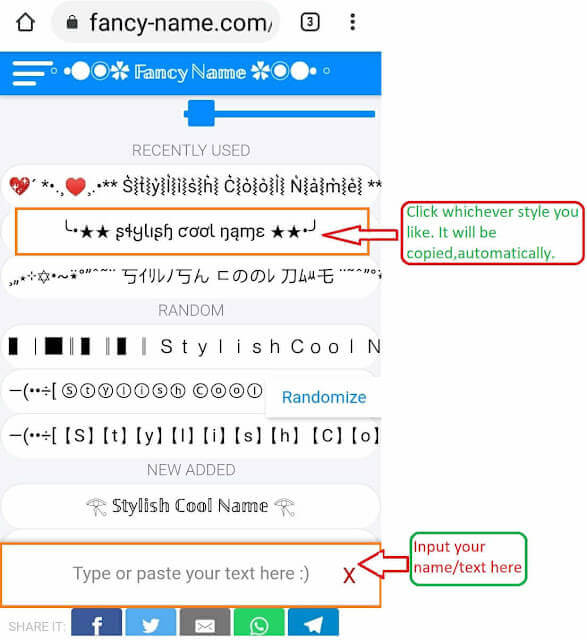 How come these Fonts are accepted by TikTok?
This is because this site tool uses the UNICODE standards. This universal standard has thousands of characters to support various academic requirements and of multiple languages. All modern browser and social6 media platforms like TikTok accepts Unicode standards.
Where all can I use these fancy fonts?
Anywhere, any platform which accepts Unicode Characters. Fortunately, the stylish fonts generated here can be used in all the popular social media platforms like Facebook, Instagram, Twitter, Snapchat, Youtube, WhatsApp, etc. Note, we are not associated with any of these platforms. Just providing exotic Unicode fancy text fonts for you to use anywhere you wish.
Show me some sample Tik Tok fonts?
Okay!!!. Here you go.
.•♫•♬• T҉i҉k҉T҉o҉k҉ •♬•♫•.
Old English Fonts for TikTok
Medieval Fonts for TikTok
SuperScript Fonts for TikTok
T̴͍̃̈́̀̿̍̇̍̈̀̇i̷̗̫͔͉͂͋͋́͐͆k̴̨̫͈͇̲̼̥̣̍̈̉̿T̶̤̱̙͆̈́͊͂́̍ò̶̗͉̓̑̚̕k̴̡̜͖̲͖͈̀͑͂̂̿͗͊͗̈́
💖🌟😍 Share this page
Click to Copy... Sharing is caring